Fancy adding a little more fun to your Wedding or Event?
Why not hire some giant garden games to keep the children (and the adults) entertained?
Connect 4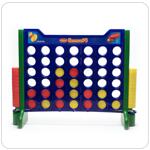 The traditional game resized to Mega proportions!
This game requires strategy, skill and of course a lot of luck. Players take it in turns to drop counters into the frame to try and form a line either vertically, horizontally or diagonal of 4 and at the same time stop their opponent. Stands 1.1m tall
To Hire: £25.00
Giant Jenga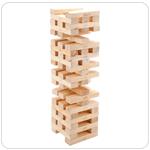 The Traditional game resized to giant proportions!
Once the Giant Tumble tower is built players take turns to remove blocks from the tower and place on the top. The aim is to build the tower as high as possible using only one hand and without making the tower tumble! It is possible to build to over 150cm!
Please note care should be taken when playing Giant Tumble Tower. Players should always be on their feet and be wary of the tower falling. Children should always be supervised.
To Hire: £15.00
Giant Chess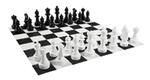 The age old game in a giant format!
Giant Chess is perfect for summer parties, BBQ's, pub gardens and other outdoor events.Not only does Giant
To Hire: £75.00
Giant Draughts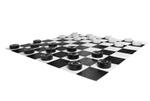 A fantastic game that's now perfect for your venue's garden.
Like Garden Chess, Garden Draughts will give your garden parties a whole new dimension. Ideal for any and all outdoor events this all weather draught set is a perfect garden accessory.
To Hire: £30.00
Giant Snakes and Ladders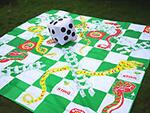 Giant Snakes and Ladders puts you in the heart of the game, where you move up the ladders and down the snakes after rolling the dice. The Giant Snakes and Ladders set contains a giant playing mat 3m square (10ft square), 8 pegs and a giant snakes and ladders inflatable dice.
Snakes and Ladders has been one of the UK's favourite table-top games for many years, and now with Giant Snakes and Ladders, you can build on this enjoyment by playing at your event.
To Hire: £15.00
Giant Ludo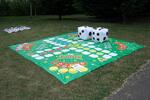 Giant Ludo is a larger scale version of the classic board game and is ideal for family fun. The game takes fun to a new dimension whether you play as individuals or as teams. It is a tactical game that sees you compete against other players to try and get all of your counters to the centre first. Comes complete with a 3m x 3m board mat, 8 plastic pegs to secure the position of the mat, 2 inflatable dice and 16 coloured counters.
To Hire: £15.00
Giant Pick Up Sticks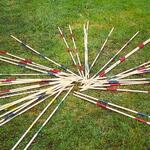 Traditional Garden Games have made the classic game of Pick Up Sticks even more fun in the giant garden game.
To defeat your friends and family you will need a steady hand and nerves of steel in this fun giant version of garden Pick Up Sticks. Pick up each stick in turn without moving any of the others.
Points are scored for each stick you pick up - different coloured sticks are worth different points.
To Hire: £10.00
Garden Quoits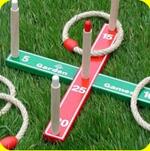 A simple game of skill and accuracy where the young and the not so young can compete on equal terms.
Contains 5 hardwood pegs and base, 4 real rope quoits and rules.
To Hire: £7.50
Boules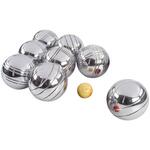 Boules is a great game which is growing in popularity.
The aim of the game is to try and throw your Boules as close to the jack (the little ball) as possible. Not only is this game fun but it also builds up accuracy and co ordination skills which is a great bonus. A traditional French game that can often be seen played in small towns and villages.
To Hire: £10.00
Garden Skittles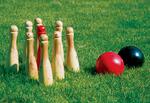 Bring the fun of skittles to your event!
Test your accuracy to the limit and try to knock all the pins down in one. The set contains 9 x 23cm (9ins) wooden skittles, 3 x 8cm (31/4ins) regulation balls, instructions and full rules.
To Hire: £10.00
Garden Limbo
Take on your family and friends with Garden Limbo.
Just loosen up and limbo down as low as you can go. Keep lowering the beam until only the most bendy person - the winner is left. Upright poles: 1.65m (5ft 6ins) high and cross beam 1.65m (5ft 6ins) long.
To Hire: £15.00
Rounders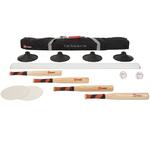 Rounders is always a family favourite, whether it's a barbeque or a summer wedding.
Rounders always gets everyone playing, the beauty is the simplicity of the game.
To Hire: £10.00
Cricket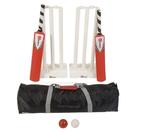 Crazy cricket is a fun form of the traditional game and can be played in the park, in the garden on the beach or even indoors!
To Hire: £10.00
Croquet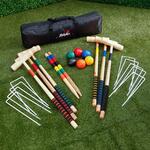 This highly attractive set includes all of the essential components required to play the game of croquet and can be used by players of any age and experience level. The rules of the game can be adapted for younger players by simply positioning their balls closer to the targets than the positions of the adult's balls.
The game of croquet requires skill and precision, as the aim of the game is to hit the balls through the hoops.
To Hire: 15.00
Giant Noughts and Crosses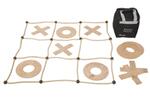 The traditional game resized to Giant proportions!
The object of Noughts and Crosses is to get a winning line of three Noughts or three Crosses in either a horizontal, vertical or diagonal row.
To Hire : £10.00
Cornhole / Bean Bag Toss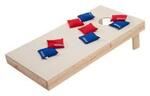 Cornhole or bean bag toss is an outside garden game in which players take turns throwing bean bags at a raised platform with a hole in the far end.
To Hire: £15.00
Ladder Golf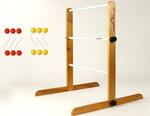 Ladder Golf is played with 2 or more players or teams. Each player has 3 golf ball bolas. A bola is 2 golf balls attached by a nylon rope.
The aim of the game is to wrap your bolas around the steps of the ladder so that they stay on, or knock the opponents' balls off. The ladder has 3 steps, top, middle and bottom. Points are allocated by which rung the bolas fall on. Each player throws 3 bolas per turn.
To Hire: £15.00
Tug of War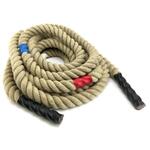 Tug of War Rope
Approx. 25 metre length rope
To Hire: £12.50
Giant Dominoes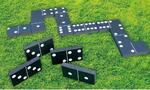 A giant version of dominoes made from durable eva foam, both water proof and easy to handle. Great fun for all the family. Size of dominoes: 18 x 10 x 2.5cm
To Hire: £5.00
Space Hoppers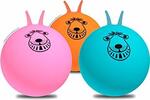 Space Hoppers availble for hire
To Hire: £10.00 set (set of 3)