Sweet Tables are the new modern addition to any wedding or event.
They can provide a great alternative to the 'traditional' wedding favours.
Treat your guests with a traditional Sweet Cart full of thier favouite delights.
This is a unique feature which is great for any occasion, it will keep the children quiet and the adults too!
The ever popular Sweet Station can be hired for: -
Weddings
Parties
Corporate Events
Proms
College Balls
Fundraising Events
or ANY OTHER EVENT!
Items included in the fixed price: -
Old fashioned handmade Sweet Cart
Containers
Scoops
Bags
Set up & take down
12 Varieties of sweets or Savoury snacks.
£175.00 to hire
Alternately if space is limited our sweet table packages may fit the bill and your budget.
Sweet table packages include everything you need
Choice of sweets up to 12 varieties
Set up and collection
Scoops and tongs
Glassware hire
Striped candy bags for your guests
£1.75 per person (min. 50 guests)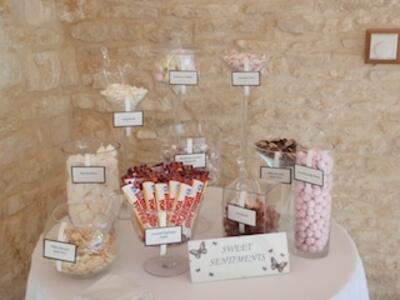 Available Sweets
Foam Shrimps, White Mice, Tangtastics, Strawberry Laces,
Midget Gems, Lollipops, Cola Bottles, Cola Cubes,
Fried Eggs, Strawberry Mojos, Parma Violets, Marshmallows,
Flying Saucers, Sherbert Dip Daps, Fudge Toffee,
Jelly Babies, Haribo Mix, Sherbert Straws, Refreshers,
Jelly Beans, Bon Bons, Fruit Salads, Rhubarb and Custard,
Black Jacks, Dolly Mixtures, Candy Necklaces, Love Hearts,
Sherbert Lemons, Liquorice Allsorts, Foam Teeth, Jelly Lips.